This Simpler Living OneEarth Podcast is a co-production of Simple Living Works! and The Common Good Podcast (OneEarth Jubilee).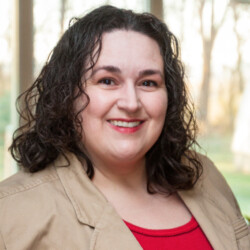 It's far too easy to assume that not much good is happening in states that are fertile ground for the growth of right-wing ways of doing things. The states of Iowa, Nebraska, and South Dakota have been just such fertile soils. And yet, precisely in the area where those three states come together along the Missouri River, this effective activist on environmental concerns helps us break through this stereotype that not much good can happen in areas dominated by right-wing politicians and profit-hungry corporations.
Carrie Radloff is an unassuming, persistent Iowan devoted to saving life in the environment of her area. She grew up in northwest Iowa on an acreage that has since been certified as a Century Farm. She attended Westmar University in her hometown of Le Mars, and was selected to be a Melton Fellow which allowed her to travel extensively and work with and learn from people from other cultures, including Europe, Africa, China, India, and Chile. Volunteering is the center of Carrie's life, and she now focuses on environmental issues. She helped found Loess Hills Wild Ones in 2017. She chairs the Northwest Iowa Group of Sierra Club and serves as its delegate to the Iowa Chapter's Executive Committee. She's a current member and former chair of the Sioux City Environmental Advisory Board. Carrie worked for 15 years in higher education at Western Iowa Tech Community College and the Tri-State Graduate Center, where she helped coordinate training for nonprofit employees and leaders. After that, she was an ACA health insurance navigator and a wind energy advocate. Carrie earned a B.A. in International Communication and Mass Communication, an M.A. in Philanthropy and Nonprofit Development. Carrie lives in Sioux City, Iowa, with her husband.