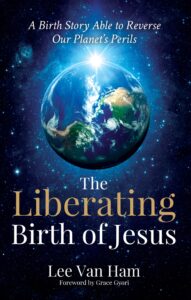 In this episode Jerry interviews Lee about his new, 130+ pages book on how the perils of our planet can be reversed by the story of the birth of Jesus as told in the Gospels. The Gospels give us a story of new creation. Matthew and Luke give us riffs on Genesis, a collection written to protest the Babylonian Empire. Genesis and the Gospels give us stories that radically counter the stories of superpowers. Their stories are about creation of the Earth and new life, and they do so in defiance of the superpower domination and death they were experiencing from Babylon and Rome respectively. Those stories give us what we need in 2020 to live by a different story from the superpowers of today's world that are destroying life for so much of our planet.
The interview flows through a series of topics:
why Lee wrote the book
how the birth story in the Gospels and the Christmas story exist in two different paradigms
the significance of the selective, mixed-gender genealogy Matthew gives us at the start of his gospel
the significance of dreams in the birth story and in our new creation story today
why cosmology keeps the creation story much larger than historical versions do
actions we can take to live in the new creation
The new book is The Liberating Birth of Jesus: A Birth Story Able to Reverse Our Planet's Perils. It's available both on Amazon and Powell's Books. It grows out of blogs Lee wrote in Christmas seasons during past years. This is Lee's fourth book.
See http://theoneearthproject.com/books/ for descriptions of his earlier books.