2022 Covenant (revised) for Living in Step with Earth and Jubilee
Last year was the first year OneEarth Jubilee put a Covenant on our website. Nearly fifteen of you/us signed it and used it to guide decisions, honing our intentions for OneEarth living. Throughout the year, the Covenant worked its way more and more into the consciousness of all of us who let it work on us.
We came to recognize both its strengths and weaknesses so now we have a revised edition for 2022. Read it on the website, (https://oneearthjubilee.com/invitation-to-sign-the-oneearth-jubilee-covenant-for-2022-and-beyond/) and you will see that the new Covenant puts strong emphasis on the sacred. This emphasis recognizes that the size of change required in shifting from the MultiEarth ways and economy of the prevailing society to OneEarth ways involves not just the facts of our crises, not only a psychological reconfiguration, but multiple spiritual experiences of letting go of one worldview and embracing another.
The 2022 Covenant also emphasizes group action. The Covenant will have its greatest impact when we act together, reflect together, and share together. Such sharing will compound our influence in creating societies where eco-thinking guides more actions. We are interconnected, so we need to act in accord with this truth, rather than pretend individualism is better. Interconnection is an essential truth that Earth lives daily. By acting together, we express the essential truth of Earth: everything is interconnected and interdependent.
We invite you to make the Covenant your year-long guide. Let us know if you are on board. We will emphasize one of its themes for a month or so, rather than trying to integrate it all at once. Let's begin with the first theme: Practicing the Sacred. In the weeks ahead, resources will be provided to go deeper into this theme. How do you and others you know recognize the sacred in all that is? perceiving it not only with ego, but with your soul.
Thank you for this communication about the OneEarth Jubilee Covenant that you have sent us. We hope to be inspired by its content to make our own covenant here at SC. — Pedro Robledo Ramirez, San Cristobal, Chiapas, MX
San Cristobal Jubilee Circle, Chiapas, Mexico—2021: A Brief Look Back
Primary personnel: Gloria Gonzales, Isai Robledo, Lindsey Mercer-Robledo, Pedro Robledo
(Written by Lindsey Mercer-Robledo)
Emergency Relief – Most years, emergencies arise and the Circle tries to respond. In 2020, the Circle in San Cristobal was able to offer some emergency relief to families deprived by the Covid pandemic.
Na-xojobal – Gloria Gonzales
Gender equality is promoted through the Grupo de Feminismo Comunitario (communitarian feminism group). Movimiento Pluricultural por la Democracia organizes women for training in using the powers of citizenship and political rights to bring change and justice for their community. Some become candidates for public office. De la Palabra a la Accion (from the Word into action) is a radio and TV program hosted by Gloria connecting the Bible with actions for justice and right living. Grupo Ecumenico (ecumenical gathering) looks at the Bible and other spiritualities through the lenses of Jubilee.
Alter-Nativas – Isai Robledo and Lindsey Mercer-Robledo
Accompaniment with people as they organized to define both their needs and resources to improve the exercise of justice, health, and economics in their lives and community. They've created the market, Plaza Comunitaria, to sell their products, offer workshops, and promote arts and culture from their community.
Yobel School – Pedro Robledo
This Center for Theological and Humanistic Studies itinerates in southern Mexico, cooperating with other schools in training leadership to have the capacity to connect faith with actions for justice, personal growth, ecological responsibility, and social transformation. Through scheduled multi-day events, leading thinkers, teachers, and activists supplement local leadership.
San Mateo Jubilee Circle, Puebla, Mexico—2021: A Brief Look Back
Primary Personnel: Mariana Velez, David Delgado, Angelica Juarez Jimenez, Karina Velez, Jaquelin Juarez , Alejandra Juarez
(Written by Mariana Velez)
The circle of San Mateo in 2021 welcomed 2 new exciting projects, in which we have reached hundreds of children through a dining room that takes place every Saturday, with the purpose of providing them with a nutritious breakfast that changes eating habits to eating healthy food. We, also, interact with children with games, crafts and workshops that allow them to have a vision of caring for the earth, its habitat and living the values of the Kingdom of God. Being peacemakers in the midst of chaos.
Another of the projects that were strengthened was the Ministry of Health, through which support is provided to people with limited resources with medicines and medical consultations. The Dan Swanson Cultural Center continued with its water care projects, teaching the importance of implementing alternatives to care for this precious and vital liquid, such as the importance of dry toilets and rainwater harvesting. The main purpose of the workshops held at the cultural center is to reflect on fairer practices with the land and with others, in harmony and in cooperation. The group of artisans, Shalom, this year learned how to increase their savings, also teaching children the importance of saving and the importance of sharing in community. The cultural center is a hotbed of talents and knowledge that are put at the service of all. 2022 is a year of exciting challenge, but as Moses exclaimed to God, we too say in our little community "If your presence is not with us, do not make us leave here."
Chuck Collins on the Industry That Defends Wealth and How It Hurts Everyone
Most people feel on the outside of extreme wealth. Some aspire to it. Many are offended by it and consider it immoral—even evil. For most of us it's a sideshow. But Chuck Collins, our guest today, says, "No! It's not a sideshow. It's the main show. It affects all of us." We pay the taxes that build what everyone uses. They avoid taxes, sometimes paying none, taking no responsibility for the common good though they benefit from it. Recently, Chuck wrote The Wealth Hoarders: How Billionaires Spend Millions to Hide Trillions. Also, a short article by him, "Helping the Rich Let Go" appeared recently in "YES! Magazine." This article is an excellent commentary on the phrase Jesus used in proclaiming Jubilee: "Releasing the captive," Luke 4:18.
Chuck Collins is Director of the Program on Inequality and the Common Good, co-editor of Inequality.org at the Institute for Policy Studies. I first became familiar with him through the book, Robin Hood Was Right: A Guide to Giving Your Money for Social Change, co-authored by Chuck in 2000. Then I was greatly impacted by a book he wrote with Felice Yeskel, Economic Apartheid in America: A Primer on Economic Inequality and Insecurity (2005). That book so clearly explains how the economic system can lessen the economic divides in our society and how it can increase them. Subsequently, I established a relationship with Chuck at the Solidarity Economic Forum in Amherst, Massachusetts, in 2009. When I wrote my first book, Blinded by Progress, Chuck agreed to write the "Foreword." I'm grateful for that.
A good way to appreciate why Chuck can speak with authority to our topic today, inequality and the radical wealth divide, is to scan the titles of his writings.
Born on Third Base: A One Percenter Makes the Case for Tackling Inequality, Bringing Wealth Home, and Committing to the Common Good (Chelsea Green, 2016).
Is Inequality in America Irreversible? (Oxford, UK-based Polity Press).
He is co-author with Bill Gates Sr. of Wealth and Our Commonwealth, (Beacon Press, 2003), a case for taxing inherited fortunes. Chuck's work with wealthy persons led to co-founding Wealth for the Common Good, a network of business leaders, high-income households, and partners working together to promote shared prosperity and fair taxation. This network merged in 2015 with the Patriotic Millionaires.
Have You Missed a Podcast Interview You Want to Hear?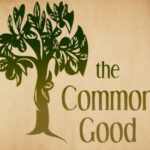 Throughout the year, the entire archive of podcast episodes from Jubilee OneEarth Economics and Simple Living Works! is being offered to you free. Where? In Free Daily Nudges put out by podcast co-host, SimpleLivingWorks@yahoo.com. Send the word NUDGE to that address or @Gerald Iversen on Twitter. You'll get a reminder each week of one on the archived Simpler OneEarth Living Podcast interviews. If friends do the same, you can bring new life into your small group. Invite them to subscribe also by sending NUDGE to SimpleLivingWorks@yahoo.com.
From a listener—
This is great news here! I did get to listen to Lauren's work… which is spectacular…. What a wonderful interfaith platform the Cooperation Circles! I love that name and that is what we are all trying to do …. Cooperate and Collaborate! Peace to you and yours!  —JS, Villa Park, Illinois