Encuentro—A U.S./Mexico Conversation on Living the Alternative Worldview We Call OneEarth Jubilee
Jubilee OneEarth Economics is not focused on just one issue, but on a worldview—a way of viewing the world and living in it. That is a strength because we need this worldview to save us from the ongoing devastation of life happening due to the practices of the MultiEarth worldview that prevails today. Along with this strength comes the challenge: Worldviews are big and reach into all areas of life. This means it can be a challenge to answer the question, "Tell me briefly, what does your nonprofit do?" There is no brief answer.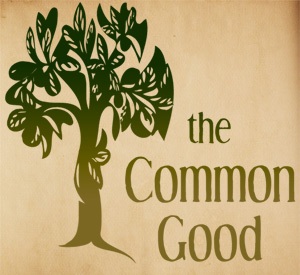 And yet, this worldview of OneEarth Jubilee guides everyone attentive to it. Living OneEarth Jubilee has strong commonality with how Indigenous peoples lived sustainably on the Earth for millennia. Furthermore, the Bible presents this worldview as an alternative to kings and empires then and now, the U.S. included. Indigenous ways continue to suffer, being thought of as in the past or outdated, and the Jubilee worldview has been forgotten by most, including many who consider themselves respectful of the Bible.
But not everyone. There are strong exceptions.
In our October podcast episode, we share a conversation between four people, who understand that the global situation of life is dire, eagerly talk about a worldview that saves life. Two of the four are from Mexico; two from the U.S. They are part of Jubilee Circles, a group of people who share a devotion to living the OneEarth Jubilee worldview in radical contrast to the reckless gamble the powers in charge are making with life on the planet.
Angelica Juarez is a physician and artist in the village of San Mateo, Puebla, MX.
Lindsey Mercer-Robledois a community organizer in the city of San Cristobal, Chiapas, MX.
John Michnois a former IT person who now directs Jubilee Economics Ministries in San Diego, California, USA.
Lee Van Hamis a co-founder of the nonprofit OneEarth Jubilee Economics and has worked to deepen his understanding and practice of the Jubilee worldview for over 20 years.
Do listen to the episode of the Simpler OneEarth Living Podcast where you will hear these four tell how the Jubilee worldview came to appeal to them, and how they're devoted to putting it into practice daily. For them, it is a spiritual path for living in the midst of the breakdowns happening in the current crises.
San Mateo Circle Upgrades Kitchen, Feeds Children, Begins Professional Baking Course
(By Karina Velez, San Mateo Jubilee Circle)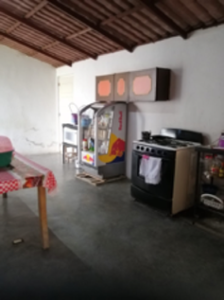 About the Kitchen—The Community Kitchen of the Daniel Swanson Cultural Center is a space to be shared by all, where learning "good eating" can be explored collectively by preparing healthy and environmentally friendly food. This is in contrast to the food industry that generates so much wasted, sometimes without any nutritional contribution, causing problems to health and the earth.
The kitchen is a community space because we are convinced of the power of the community. It is a meeting place especially for women where they can share their ancestral or contemporary recipes and share their own experiences of traditional cuisine. It also seeks to empower them to promote solidarity economies that benefit the community.
Another objective of the community kitchen is to provide nutritious food to needy girls and boys in the community—to reduce cases of malnutrition. So every Saturday a breakfast is offered in an atmosphere of companionship with games, songs and teachings of biblical values.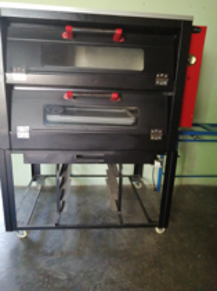 Upgrades—Previously, the kitchen had borrowed and insufficient furniture unable to carry out activities in a more optimal and professional way. But now, through a grant and donation via JEM, we have acquired a professional oven, an energy-saving refrigerator, and a heavy-duty metal table and grill. (See before and after photos of oven below.) The space has been newly painted and we are currently doing some repairs to the ceiling and sink.
Already, we have started a basic pastry course, in which 5 families benefit directly. We have also restarted the breakfast room for children on Saturdays. The long-term plan for the kitchen is two-fold: (1) continue to develop it as a teaching kitchen for nutritious foods, and (2) begin a bakery business with people trained in the kitchen. This will provide income for people who have little.
OneEarth vs MultiEarth Societies Presented at Technological University of Tecamachalco
Near to San Mateo is Tecamachalco, Puebla, MX, a city of 80,000. Mariana Velez, a part of the Jubilee Circle in San Mateo, teaches at Universidad Tecnologica de Tecamachalco. This year, the technological university is celebrating its 25th year, and Mariana added to the events of the year a presentation about sustaining life on our planet. She and her spouse, David Delgado (communications assistant at the university) invited Lee Van Ham to give such a presentation, asking him to contrast MultiEarth and OneEarth societies and lifestyles as he did in his book, Blinded by Progress: Breaking Out of the Illusion that Holds Us.
The presentation went for 45 minutes, including translation done by David Funkhouser, president of the JEM Board. Lee also fielded a couple of great questions: (1) How can we influence our university to be a OneEarth university? and (2) how can I use my training in this technological school for OneEarth purposes?
How did it go? In Mariana's words,
"it was a wonderful presentation and I am sure that many more people will be "touched" with these words that you shared and that contrast our relationship with ONE earth and the MULTI-EARTH ways. For me it was a very precious time of reflection!!!
"About 60 students listened in an auditorium, and they sent their thoughtful questions that day … but the video will be uploaded to the university's networks until next Wednesday, so more and more people will be able to listen to this message. It is my wish that the message will have a deep echo in people's hearts and generate more spaces for reflection and action here at the University. I'll keep you posted on the fruits of this talk."
Let's Help Reverse the Tree-loss Crisis
All the Jubilee Circles continue to learn about as many as twenty-five contributions trees make to life on our planet. This fall we are putting that learning into planting trees in our areas. Every second, around the globe, a football field of trees is downed. One-third of the world's forests have been lost in the last 1000 years with half of that happening since 1980. The need for trees has become critical. Both forests and urban areas continue to lose trees. All Jubilee Circles have begun tree-planting actions. A number of you reading these words have donated to the "Tree Fund." Here is a recent example. And, if you are able, join a local group in planting trees in your area.
"Enclosed is a check to cover our carbon offset for our travel to Berlin and back [to see family]."—Dan and Joy Meyer, San Diego