Getting the Best Alignment We Can between
Our Money and Our Values
How to align our money with our values for a more just world has been an aim of Jubilee Economics since our inception (2020). It is also part of the current Jubilee Covenant. Recently, the San Diego Jubilee Circle met for an hour and a half with financial advisor Andy Loving to help us put more nuts and bolts into what we can all do with our money to contribute to a more ecologically and socially just economy.
Andy Loving is the founding partner of Just Money Advisors and its principle advisor. A Certified Financial Planner® and an ordained minister, Andy creates investment strategies that help clients meet their financial goals in a way that proactively contributes to justice and environmental sustainability. He has won multiple awards for helping clients put capital into financial institutions that serve poor people, both domestically and around the world. It has been observed that "Andy looks at money and imagines ways to create justice."
Andy explained how our dollars can help make small loans that big banks don't make. We can keep our checking and savings accounts in a neighborhood bank or credit union that invests in their neighborhood—areas where large banks don't make loans. Below are ways Andy told us we can invest on Indian reservations, for women-owned small businesses, and for improving the environment.
Sharing 6 takeaways on how to have impact with the money we "keep," not our charitable donations—
Visit the website for Better Banking Options (betterbankingoptions.com) to see the best banks in your area for local, justice work.
Calvert Impact Capital (https://calvertimpactcapital.org/) is fully involved in works of justice.
Hope Credit Union (https://hopecu.org/) has a long record of investing successfully in black communities where black populations are most dense. If you're interested in this one, you need to talk with Andy first (https://justmoneyadvisors.com/team/). He'll likely give you a free consultation on this option because he's so passionate about it.
Organically Grown (https://www.organicgrown.com/) is passionate to increase regenerative growers and constantly search out new sources and people who want to get on board.
To assess a bank's community investing, ask for their CRA (Community Reinvestment Act). It is public information that you are entitled to see.
Owesta Corporation (https://www.oweesta.org/) is a Community Development Financial Institution formed by Native Americans that invests exclusively in Native American enterprises.
"Yobel" Center for Biblical Studies, San Cristobal Jubilee Circle,
Facilitates 2 Day Workshop in Chiapas
by Pedro Robledo Ramirez, the "Yobel" Center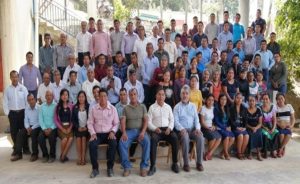 Thanks to the blessing of the God of life, our programs have continued to run. According to the needs indicators, we have obtained good results. As a sample of our ministry, an educational experience is shared below. It is about some biblical studies that a server facilitated on "the vocation of service of Jesus in Luke 4:14-8:1-3". The activity was held on May 3 and 4 in the Presbyterian Church "Príncipe de Paz" in Tzajalha´, Municipality of Chilón, Chiapas. According to the roll call, the attendance was about ninety people: 60 brothers and 30 sisters from the Tzeltal culture. Not all people appear in the photo. In addition to the local Church, they came from about ten congregations from different communities. The group was made up of people of different ages: children, youth and adults. Most of the participants have a leadership position and positions in Christian ministry. Each participant was given 10 pages of printed material in order to continue the feedback and sharing of the Bible study. With this, the local "Emanuel" Biblical School gives importance to the training of biblical trainers.
Virtual Trip to San Mateo Jubilee Circle
By Lee Van Ham
The best part by far was the opportunity to meet our brothers and sisters and get a peek into their lives of service. It's not surprising that the glitches in technology and communications were far from ideal this time around. — participant Ruth Hazelton, Hamilton, Montana
Fourteen participants "traveled" to Mexico on June 18 for a 2.5-hour trip. We came from California, North Carolina, New Mexico, and Montana. Imagine, meeting up at the Mexico City airport and taking an excellent hour a half-hour bus ride to Puebla where we meet our hosts. An hour later we are in San Mateo and being shown around the Centro Cultural Dan Swanson and other buildings where most of the Jubilee Circle participants live.
We were hosted by five people of the San Mateo Circle, each one saying why they were drawn to work with the biblical Jubilee: Angelica Juarez (physician), Mariana Velez (attorney, university teacher), David Delgado (IT at university), Karina Velez (journalist), and Alejandra Velez (retired bookkeeper).
The trip focused on the new, professional kitchen that was installed in 2021 through a foundation grant ($3000) and a special $1500 donation. Especially important were the professional oven, new work tables, and new chairs. Two projects became possible with the improved kitchen: (1) a feeding program for children, and (2) classes by a chef training people to fix healthy, nutritional food.
The Saturday breakfast currently feeds 25-30 children with plans to expand to 60. Along with healthy food, the children share in music and dances. They are also taught life principles anchored in Jubilee. Three of the children testified to what the experience means to them. We are seeking extra funds to buy all this food, soliciting a Bay Area foundation. Dan Bayer, a Nazarene pastor in Los Angeles who has traveled to Mexico with JEM and is on the foundation board, is the intermediary for this grant.
In the food-making classes, basic courses have been taught, and a more advanced course will begin soon, with the aim of giving women and men chef skills that equip them to bake "for sale" items. In this way, they can supplement household income. 35% of the enrollees in the classes are men and boys. The chef makes sure that only affordable ingredients are used.
Before ending, we took a quick peek at their dry toilets (address water scarcity in which water is delivered every other week) and their chicken project. But details of those await a future trip.
We concluded as Mariana gifted us with a moving song and Angelica requested to pray for blessing of the "tourists." Thanks to Grace Gyori for her translation and all the work of our hosts. Instantly we were back in our homes having made little ecological impact with our travels.
What a joy it was to meet each of you, albeit virtually last Saturday. For being the first time for each of us in different ways, I thought it was a great experience for us….There's no doubt that each of us learned a bunch about the exciting projects being realized at the Dan Swanson Cultural Center….Thanks to everyone who put this experience together in such a cogent, lively and informative way! —participant and translator, Grace Gyori, Plainfield, Indiana
It was great to meet the committed volunteers, all of whom seem to have important jobs at the same time: lawyer, teacher, etc. Very positive energy. I'm glad to be able to support them from a distance. —participant Ellen Young, Las Cruces, New Mexico
From the Network—
…my bank will process [our donation] the 2nd of every month. What wonderful news about the grant and the starting of the new composting operation. I'm also excited about the chicken project! That sounds amazing! Our thoughts and prayers continue for all of you in Jubilee, especially Angelica and Edman. —Jan and Lee Dorsey, Avon, Indiana