Making All Our Money Accountable to Our Faith,
Not Just Our Donations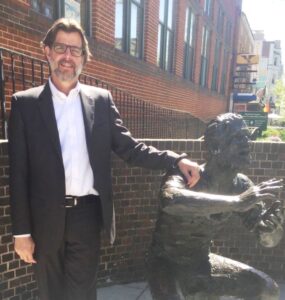 Money is so powerful that it repeatedly compromises faith. On the other hand, radical faith can recognize money for the god it is and choose to serve the God of life, love, and interrelatedness of all creation.
In this month's Podcast Lee speaks with Mike Little, director of the Faith & Money Network,  an organization that works "… to equip people to transform their relationship with money, to live with integrity and intentionality, and to participate in creating a more equitable world."
Linking money to faith, when it affects ALL our uses of money and not just our giving, is itself a radical position. Faith & Money Network has many valuable resources to work on our relationship with ALL of our money. The money autobiography is one. By selecting some of the questions as a guide for writing a money autobiography, awareness is sure to pop open new life choices. Be sure to do it.
Since he began as director in 2007, Mike has led trips of perspective in Haiti, India, Nicaragua, South Africa, and the US. Mike has consulted extensively with nonprofits to help them clarify the role of money in their personal and organizational lives and develop the spiritual grounding to raise money to fund their missions. Serving on several boards of directors over the past 25 years, Mike is currently on the board for Life Asset Financial Center, an emerging Church of the Saviour ministry that provides access to financial services for people who face barriers to using traditional financial institutions. (For more bio)
Listen to this conversation in the context of the current U.S. economy as it's exposed for its inability to deal with grotesque income and wealth gaps. For example, the stock market is at all-time highs through the pandemic even as millions of people lost jobs and suffering has been widespread. Our economy is failing to meet the standards of faith which measure its success by how well the least are treated.
Jubilee Ministry of Health in San Mateo, Puebla (Mexico)
Extending the healing ministry of Jesus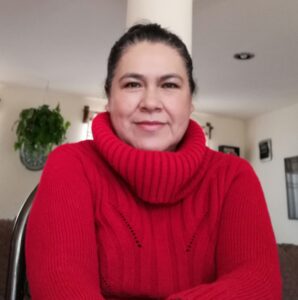 Dr. Angélica Juárez is a physician and part of the San Mateo Jubilee Circle. She has an office with basic instruments for the care and exploration of her patients. In this space she provides free consultations for those in situations of great vulnerability—some have lost their job, others have insufficient economic resources to pay for a consultation. All who come to her are supported with medications as part of the treatment to restore health. Many people arrive with emotional burdens and this space is also a means to give comprehensive spiritual counseling and support.
The pandemic made the public health issue even more complex. As many people lost their job, they also lost the medical insurance that allowed them to have free medical treatment. Such is the case with Plácido, a 55-year-old man who had a brain stroke that has immobilized him. He was the breadwinner of his family and now his relatives have to knock on doors to find money for his medicines or even food to eat. In the medical office we have been able to provide medicines as well as pantries with basic foods to those in need.
Ivonne is a 42-year-old woman, a single mother who fell ill with Covid and had to quit working for more than a month to recover. She too was supported with medications and laboratory studies until she had completely recovered.
Then when Dr. Angélica also fell ill with this virus, she came into even greater empathy and understanding of the high medical expenses necessary to treat this disease. She has recovered, but for now is giving consultations by phone, until conditions do not put her health at risk.
We have been able to mitigate a little the ravages that the pandemic has left in its wake thanks to the collaboration of generous people like you, who support our ministry. There is a lot of work to do. The needs are endless, but a grain of sand always makes a difference.
Community Store
The pandemic made the economic inequality gap bigger and many people in our community lost their jobs or sources of income. To mitigate these basic needs a little, we developed the program called "Community Store" that supplies basic food basket products such as: rice, beans, oil, pasta, eggs, cereals, milk, etc., and at prices lower than those they are offered in shopping centers.
With this program, with the support of JEM donors, and as part of a bank of pantries that we manage with the authorities of the municipality, we have made over 150 donations of food pantries to families who have experienced great economic need. Another purpose of the Community Store is to be able to offer the products that are made by the women of "Artesanas Shalom," another ministry of Jubilee. We promote the purchase of crafts made by women from the community and this generates solidarity economies.
Thank you so much! –– from The San Mateo Jubilee Circle.
What Will You Do with Your Stimulus Check?
Many need the stimulus to address desperate situations of debt, rent, medicines, food—just the essentials to make life work. But, if for you this check is discretionary income, please use some of it (1) to help people for whom the economy has not been working or (2) to help an organization working to make the economy more just. Because OneEarth Jubilee does both of those in Mexico and the U.S., a donation to JEM would be used efficiently and gratefully. Its use would be wrapped in the Spirit and shared personally with love … and where appropriate, shared with prayer.
Other notes from JEM's financial picture that we want to share:
In 2020, ten donors gave for the first time. Can you help that double to 20 in 2021?
Do you want to donate stock and avoid paying tax on it? One person did last year and now JEM has an account that makes it possible to receive your stock donation. Just let us know.
Thanks to your giving, redistributions to the Jubilee Circles in both San Mateo and San Cristobal have increased for 2021 by $400 to the ministries of each of the Circles.
Some of you have donated to the OneEarth Jubilee Tree Fund. Hopes for 2021 planting projects include involving youth who want to be involved in making a better world in which to live their lives. Suggestion: Make a donation to the Tree Fund to counter the emissions of your travels.
Estates—JEM received $3000 from an estate in 2020. Though a small amount as some estates go, it makes a huge difference in our Jubilee ministries.
Koffeeklatches on Changes to Reduce Greenhouse Gases
by 2030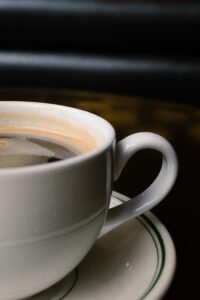 Soon we'll host koffeeklatches on Saturdays, 9:30-10:30 am PST. You'll be invited to come with your cup of coffee, tea, or nothing at all for these "klatches" on how to live and what to do in the next 9 years to save life on our planet. Faith-based actions add energy to the changes. John Michno and Lee Van Ham will facilitate. John is the current director of OneEarth Jubilee and Lee continues to work with Jubilee at the intersection of ecology, economics, and spirituality — as he has for a couple of decades and during which time he authored several books on these subjects. More information will be coming out soon.
Photo by Skyler Gerald on Unsplash