New Jubilee Ministries Add to Continuing Ones
News from Gathering of Circles, October 12, 2023
San Mateo Circle has begun a new program for older adults in honor of their mother and grandmother who passed this year at age 100. Fifty (50!) people come to this new monthly program at the Circle's Cultural Center (Dan Swanson Centro Cultural) for breakfast, physical activities, and sharing stories of the past.
Their professional kitchen can easily serve these breakfasts, but—alas!—it needs a new roof ($6,500 that's not in the budget).
San Cristobal Circle, Yobel School director Pedro was recently in Peru attending a conference sponsored by the World Conference of Churches on theological education with 25 others. He met with youth leaders about ecology and presented, also, on immigration, injustice, narco-trafficking, and ecology.
Lindsey and Isai (Alter-Nativas ministries) are just returning to activities after a two-month parental leave with their firstborn, Kotan. Their first act was to collaborate with two other groups in sponsoring the annual Corn Festival on October 1. Over 500 people participated in the festival
to feature corn products made with many different types of corn,
to continue the rich heritage of being people of the corn, and
to lift up the seed bank which rescues varieties of seeds because varieties are being lost.
Gloria (Na'Xojobal) continues working with women and the much-appreciated savings groups. She also led a soap-making workshop and continues twice each week to stream live on Facebook. Gloria's own words:
Let me tell you about the Savings Banks that in December we closed our fourth cycle of the 2 community Savings Banks "Changing Lives" and "Mujeres de Corazón" with two years of walking together. Now husbands and children are included. Likewise, in December another savings group begins with the initial seed that is given to them of two thousand pesos.
2024 Trip to Mexico
April 7-14 Will Be the Next Trip to Mexico Led by Jubilee
We will see first-hand the ministries reported in this newsletter throughout the year. We'll see the great OneEarth work of people with whom the Circles collaborate and hear the stories (testimonies) of participants in the activities of the Circles. It's not too early to register your intent to join this trip—in fact, one person already has. Just send an email to john@jubilee-economics.org or lee@jubilee-economics.org. The cost is being determined but will be around $1500. That will include all travel, lodging, and many meals. We depart and return to Tijuana-San Diego airport.
Luke Presents Jesus' Radical Uprising
Have you ever thought about the genius of Luke in the gospel he wrote? This 25-minute session of The Radical Bible begins the pilgrimage through Luke with Wes Howard-Brook, scholar-activist, and friend of Jubilee. Be sure to watch. Just click on the image below to open the link. Skip the ads and you're there.

Find a New Donor by End of 2023 and Receive a Free Book
All the people you read about in this newsletter need your help. It is so great that the Jubilee Circles continue to add new ministries and reach more people. Jubilee connects with their needs. They respond beautifully. Isn't that great?
Along with this positive news comes the reality that financial needs for these ministries grow, but the financial support is falling behind. Please talk about OneEarth Jubilee with someone(s) you know and let them know about this opportunity for a Thanksgiving gift, Giving Tuesday donation, or end-of-year gift. We'll send you free, a copy of The Liberating Birth of Jesus, a fascinating read on how the Christmas story and the birth of Jesus story are two different stories. It's an especially good read during Advent season in December.
Our JEM Leadership Team
The website page "About Us" is having a significant makeover (see https://oneearthjubilee.com/about-us/). It's common for people visiting an organization's website to want to learn something about who is involved. Our previous page did not give bios of everyone. That's changing. We are telling you more about us and updating some photos. Here's an example.
David Funkhouser
Board President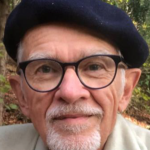 David's relationship with the Global South began as a Peace Corps Volunteer in Colombia during the late 1960s. He has built on that relationship through Episcopal urban ministry, faith-based community organizing, and extensive travel in Central America and Mexico. During the 1980s he led the Philadelphia-based Central America Organizing Project to build awareness of U.S. policy affecting the region. From 2004-2013 he joined Fair Trade USA to promote Fair Trade as an alternative to conventional trade models. In retirement he serves on the boards of several faith-based organizations working in Mexico.
JEM Receives a Small Grant for Immigration Ministry in Tapachula
In Mexico's southern border city of Tapachula about 6,000 migrants arrive every day, crossing Mexico's border with Guatemala. That puts Edman and Rosy Lopez and the Tapachula Jubilee Circle right in the path of incredibly brave, hurting, and desperate people.
In September, OneEartjh Jubilee applied for one of the United Religions Initiatives Sowing Seeds grants. We were awarded $2000. The application required collaboration, so we collaborated with Safe Harbors which is in the same building as the JEM office. Their multifaceted work immigrants includes youth who at 18 must get their own papers and living arrangements or be deported. For that aspect of their work, Safe Harbors has received $650.
In Tapachula, when Edman heard that $1350 was coming to them from this grant for immigrant ministry, he replied:
Thank God for this pleasant news. Above all, for those migrants to whom we can be of help, I want to tell you of a new joy here in our home: César Tangarife, from Colombia, has been with us for 20 days now. He was assaulted and lost his papers, including the document that had been given to him to be able to freely cross Mexico. Thank God they gave him a kind of CURP (Clave Única de Registro de Población), a registration for foreigners, and he is ready to continue on his way. Many thanks to God for their lives and for everything they do for us in this part of the country.
Big Thank You to Fall Donors!
At the beginning of September, JEM knew we'd be unable to meet redistributions to the Circles for October. But then it happened! You came through, and suddenly, September became the best month for donations so far this year! Thank you! Gracias! Koval!
John and Jeanne Go to their Farmer's Market
John Michno and Jeanne Peterson have been visiting the Farmer's Market, Lemon Grove for a little over a year. We go nearly every week, buying fresh produce from Rodney and Diane at People's Produce, a distributor who sources from local neighborhood farms like Mt. Hope Community Garden. A diverse group of vendors welcomes and helps us feel at home.
We approach our visits from the perspective of co-organizers. We want the market to thrive. So we've distributed flyers to our neighbors, driven them there, and invited people we meet in our town.
We also try to take responsibility for building community by introducing our neighbors to vendors, and pointing out what they have in common – so they can start to build relationships that will make our community stronger. Possibilities for growing the local economy sprout and grow because of folks like a local permaculture teacher, Stephan; Seth, running for City Council; Jennifer, a yoga teacher; filmmaker Jim; Clovis who offers free solar to low-income folks in our community; ministers Anne and Mark who host a meet-your-neighbor cafe; Bruce, a houseless man and his companions; and Joyce, community garden and market organizer. Developing neighbor relationships yields unanticipated social good, in ways only Spirit can anticipate.
In just 30 minutes, we create multiple benefits. Where else can we savor local, organic produce, fresh air and sunlight, letting go of pandemic isolation in exchange for multi-generational connections, being seen by our community, and allowing walls of prejudice to melt away – all in one place?!
Check out a market in your neighborhood. Write back and tell us about it. Or FaceTime with me so I can introduce you to our market here in Lemon Grove.