By lee Van Ham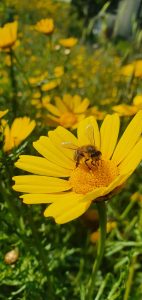 I have been really slow to recognize that the radical changes to climate that threaten survival of life are matched in importance by the severe loss of biodiversity. But when Lauren Van Ham (daughter), climate coordinator with United Religions Initiatives, told me she would be going in December to Montreal for Cop15, the UN biodiversity international conference, I began to pay attention.
Importance of biodiversity—The Guardian's commitment to covering the ecological breakdown included covering Cop15. The articles were forcefully clear: to assure the survival of life on Earth, preserving biodiversity equals global warming in importance.
The "fate of the entire living world" will be determined at the Cop15 UN biodiversity summit, according to leading scientists.
They said the gathering of the world's nations, which began on Wednesday (December 7, 2022) in Montreal, is "vastly more important than Cop27", the recent high-profile UN climate meeting. "We say this because of the many dimensions of anthropogenic global change … the most critical, complex and challenging is that of biodiversity loss," the researchers said. (The Guardian, 12-7-2022).
Interconnected crises—Ignor Anderson, UN environment chief, emphasized that the final text of any agreements arrived at, whether at Cop 15 or elsewhere, must tackle "the five horsemen of the biodiversity apocalypse." The image is taken from the biblical book of Revelation (also called Apocalypse) which speaks of 4 horsemen delivering various devastations. She named the horsemen of the biodiversity apocalypse as
Land and sea use—habitat loss through human encroachment, farming, and more.
Overexploitation of natural resources
Climate crisis
Pollution
Spread of invasive species
As the third horseman says, not only does biodiversity equal the importance of a stable climate, but the two are closely interconnected. Thus, destabilizing the climate destroys life-sustaining biodiversity.
(https://www.theguardian.com/environment/2022/dec/06/cop-15-un-chief-biodiversity-apocalypse)
Changing to a nature paradigm—UN secretary general, Antonio Guterres, said at the beginning of Cop15 "Humanity has become a weapon of mass extinction and governments must end the 'orgy of destruction.' …We are out of harmony with nature. In fact, we are playing an entirely different song."
Saying "we are playing an entirely different song" gives a clear image that survival depends on changing our song. As we retrain ourselves to listen to nature's song, we can tell it is more beautiful and stronger than the song of profits.
Changing to a nature paradigm was given a big boost by the EU when, ahead of Cop15,
…it passed legislation affecting agriculture in many countries. As the world's second-largest importer of agricultural product, the bite of this law "will affect the trade in cattle, cocoa, coffee, palm oil, rubber, soya and wood products, all linked to the loss of tropical forests" (The Guardian, 12-6-2022). Agricultural imports from many countries will end soon with this law.
In the same article, Glenn Hurowitz. CEO of Mighty Earth, enthused, "For the first time, European governments are telling companies selling agricultural goods, 'If you or your suppliers destroy forests, you can't sell your products here.' With this law, Europe is putting real action for wildlife on the table."
Actions—
Continually give attention to aligning ourselves with a nature paradigm and encourage others to do the same.
Boycott the beef and pork industries by eating plant-based alternatives and reduce other meats. Eat only wild caught or sustainably farmed seafood and organic, free-range poultry.
Consider how we can reduce the impacts in our own circles of the five horsemen of the biodiversity apocalypse.
Protest and exercise the power of our votes and citizenship wherever we are able.
Develop the conviction that just because our actions don't change the big picture they do galvanize our beliefs and make statements to those in our relationships.
As I conclude this blog, Cop15 ends in a few days. Any big agreement looks doubtful and U.S. unwillingness to negotiate in truth and transparency is a big reason.
Photo by Christos Gavriel on Unsplash