By Lee Van Ham
[This blog pays tribute to recently passed Herman Daly (1938-2022). His economics career went from the World Bank to a different way he described as Steady State Economics. With theologian John Cobb, Daly co-authored Economics for the Common Good: Redirecting the Economy toward Community, the Environment, and a Sustainable Future. It received the Grawemeyer Award for ideas for improving World Order. Personally, the book has been a primary teacher to me.]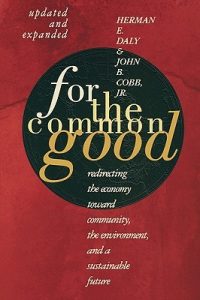 Growth economies face a conundrum: how is continued growth possible on a limited planet? At the end of summer 2022, growth economics had created 2700 billionaires, 720 of them in the U.S. And Credit Suisse tells us in their annual Wealth Report that there are now 62.5 million millionaires. Yet, simultaneously, an open letter signed by at least 238 international and local charities from 75 countries reported 345 million people now experience acute hunger and one dies every four seconds from hunger. Ecologically, the wealthier a person, the greater the damage to the planet (and souls?).
Amazingly, this treacherous economy is pursued in ardent love by millions. But how can any rational human, not in a money trance, expect that Earth will tolerate this indefinitely? It's pure delusion and addiction.
A radically different way of thinking from this growth economy fundamentalism is ongoing. Many people live by economic decisions that fit within the planet. Those economies go by many names. Here are three examples.
Solidarity economics focuses on building a just and sustainable economy, while people and planet are prioritized over endless profit and growth This global movement is practiced by the Jubilee Circle in San Cristobal, Mexico.
Steady state economics was introduced by John Stuart Mill in 1848. Herman Daly, senior economist with the World Bank, 1988-1994, has been the champion of steady state economics in recent times. It aims to balance population and consumption within the planet's limits.
Caring economy, a special interest of feminist economists, is described by Riane Eisler in her book The Real Wealth of Nations: Creating a Caring Economics (2007). Eisler shows how re-inventing economies to include caring and sharing makes good economic sense, as well as being right morally and relationally. Study after study confirms that such an economy is healthier for people, planet, and profits than an economy focused in competitive advantage and growth.
All of these require a different way of thinking. Herman Daly and John Cobb agreed that if humanity could make the paradigm change to economics for the common good it would be a religious experience. The nature of this religious experience is described by Paul, the Apostle. He said it involved shifting from ego-consciousness of individualism to Christ-consciousness of the whole. Such change, Paul called a "new creation." He wrote letters between 50-60 C.E., before the destruction of Jerusalem by Rome (70 C.E.) and before the Gospels of Matthew and Luke (c.85 C.E.). In faith communities, scattered across Turkey and the Middle East, ego consciousness collapsed in a consciousness upheaval that led to Messiah-Christ consciousness. For those involved in these communities, the world was turned upside down as…
Jews and Gentiles, though separated for centuries by laws and social norms, were one in these faith communities.
The patriarchy that suppressed women everywhere else, yielded to oneness.
Slaves, who never had rights with slaveowners, now shared the sacred meal and position in these communities.
Finances were shared, redistributing according to need. Economics was about caring, not profits or growth.
What had been right over many centuries was now wrong. And the inclusion that, for many, had been wrong was now the core of right relationships. Egos fought it and considered it morally wrong. Egos even invoked religious authorities and God to support their persistence. But all of this ego domination was overwhelmed by the powers of Spirit that moved these communities into a new way of thinking, a new worldview. Messiah-Christ consciousness brought liberation.
Paul described the shattering collapse of ego dominance to the Messiah-Christ consciousness as he proclaimed:
"If anyone (inclusive) be in Messiah/Christ, they are a new creation. The old has passed away (collapsed). All things have become new."
In this new consciousness, people experienced the passing away of the previous separations. They were gripped, instead, by inclusiveness. It was so different that no words short of "new creation" described it.
In this new creation, economics changed from private, individualistic wealth to commonwealth—sharing so that all in the new creation participated. Omitting economics from the spiritual life has devastating consequences for people and creation. Wendell Berry in his book, Sex, Economy, Freedom and Community (1992, pages 99-100) pleads for correcting this omission.
Probably the most urgent question for people who would adhere to the Bible is this: What sort of economy would be responsible to the holiness of life? … I do not believe that organized Christianity now has any idea. I think its idea of a Christian economy is no more or less than the industrial economy—which is an economy firmly founded on the seven deadly sins and the breaking of all ten of the Ten Commandments. If Christianity is going to survive as more than a respecter and comforter of profitable iniquities, then Christians, regardless of their organizations, are going to have to interest themselves in an economy…. They are going to have to give workable answers to those who say we cannot live without this economy that is destroying us and our world, who see the murder of Creation as the only way of life.