What We Eat: Choosing a New Way as Big Ag Fails
By Lee Van Ham
Industrial agriculture is among the leading causes of anthropogenic climate change, number one cause of deforestation, number one cause of water pollution, and number one cause of biodiversity loss. We need to demand better—by eating better. — The Humane League
We have great power to grow the existing alternative to Big Ag. (1) We need to use Earth-based thinking. (2) And, we must band together to let decision-makers know that we do not want them to subsidize and prop up Big Ag because it is not the best system for growing and distributing food. It is filled with injustices and harms our planet terribly. We want them to switch their subsidies to small, organic farmers, who, if treated fairly, will feed the world, care for the soils, and clean the air and waterways. Big Ag must be phased out. If not, its collapse will leave the world shocked with no new system that feeds all beings. Big Ag's huge contributions to environmental degradation cannot be justified any longer. (3) Our daily eating choices have enormous power to phase out Big Ag and increase the better alternative.
We need to act NOW!
The World Food Programme says: "The world faces a global hunger crisis of unprecedented proportions. In just two years, the number of people facing, or at risk of, acute food insecurity increased from 135 million in 53 countries pre-pandemic, to 345 million in 79 countries in 2023 "
Let's proceed by emphasizing that our eating choices decide who farms and who doesn't.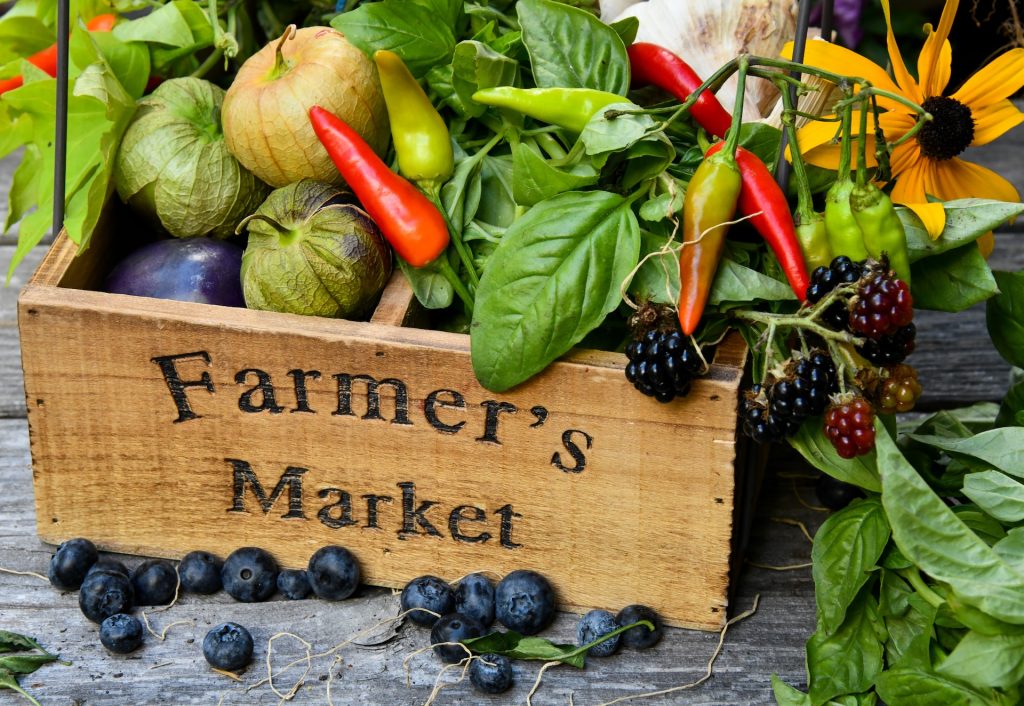 Who Farms — We need to buy food from local farmers as much as possible. Farmer's Markets are a fun, great place to buy her or his production. We can get to know them in the process—so much more civil and human than checkout lines, especially the self-checkout lines. Our purchases keep them farming and our lives more human.
— We need to buy organic food as much as possible. Organic farming continues on a steady rise globally. When we buy organic we encourage the farmer in the choices he/she is making to regenerate soils, avoid pesticides and herbicides, use natural fertilizers instead of synthetic chemicals, avoid contaminating waters, and sequestering CO2 from the air. Sometimes the price can be a little more, but we are buying so much more than the food!
— By avoiding processed foods, we are standing against Big Ag. We can buy only from companies that package healthy, unprocessed food without sugars and fill me up with empty calories. We stand against unhealthy food-related diseases such as heart disease, respiratory diseases, and obesity.
— By buying little or no meat, we stand against factory farms where nearly all meat is produced. We stand with farmers avoiding factory farming and corporatized farming methods. We stand with farmers who know they can produce better food than what meat farmers provide and who also depend on massive acreage committed to corn and soy production to feed the animals in their confinement lot. But take a Beyond Meat Burger for example. The land use of a Beyond Meat Burger is 43.3 times lower than a beef burger. Based on the average dimensions stated by Franklin Street (2019).
The Humane League emphasizes some of the above actions we can take.
…small independent and family-run farms use only 8% of all agricultural land. In just under a century, and especially since the 1960s, agriculture has become dominated by large-scale multinational corporations. Driven by profit, these food giants rely on practices that, by design, exploit and abuse animals, destroy natural habitats, and generate pollution and climate-changing emissions. ·— The Humane League
Photo by Shelley Pauls on Unsplash