By Lee Van Ham
To live my life immersed in right relations with all life is my continuing desire. My practice of it is poor. And that's not being modest. It is being in awe that I am included in relations with millions of species. Humility moves into me quickly when I live in this realization. So does reverence —reverence at the mystery of it all. So sacred. Add to this that as I find myself in right relationship with species, I recognize that I am one with them. We are Nature together. We are allies with one another.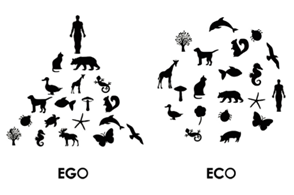 I was not reared to live or think this way. During my fundamentalist youth I was told by teachers that Nature is great but can't be trusted for the way of salvation. For that we need to seek the wisdom of the Bible. Today I set that teaching on its head. Nature is, I feel sure, our primary sacred text, and we cannot find our way into any kind of salvation (wholeness) without the oneness of all. As I open my eyes to see how species are far more ally than enemy, I experience a great grace!
And what Nature willingly shares, if we will be in right relationship with her, is that she is our ally in the face of all injustices arising from MultiEarth powers of domination. Think of it: OUR ALLY! And she is inclined that way. She doesn't have to be forced into it. When we are in right relationship with her, we are partners. Today we need all her powers because she knows how to keep Earth livable.
[The following is excerpted from what I wrote in 2017 in From Egos to Eden: Our Heroic Journey to Keep Earth Livable, the chapter entitled "From Taming the Wild to Rewilding Ourselves."]
Sharing space with wildlife as collaborating partners in Earth's community of life gets us into the OneEarth mindset of wilderness. How different this is from the more typical attitude characteristic of the MultiEarth paradigm where Homo sapiens expect preferential treatment, even regarding wilderness. There's a widespread attitude among us that we have an inherent right not only to protect ourselves from wild creatures and plants but to determine here they may live and how. Most of the time that dominance assures we can benefit economically from our position of power. As the graphics [above] show, in the MultiEarth paradigm Homo sapiens are the apex of the pyramid of life, an expression of egoistic civilization. In the OneEarth paradigm, Homo sapiens are within the circle of Earth's interdependent community of life.
The worldview of OneEarth Creation perceives wildness as integral to the holistic connections that assure a life-sustaining ecosphere. We cannot move into the great challenges yet to come on our heroic journey if we keep the MultiEarth, egoistic mindset. If we catch ourselves wanting to cleanse our houses, yards, cities, and farms of all things wild and inconvenient, we can be sure that our attitude and consciousness are more ego than eco-focused. At this stage of the heroic journey it's important that we strengthen our understanding of the Wild's deep and mysterious interconnections and become part of them.