By Lee Van Ham
For too long I have given Spirit far less attention than she merits. Did you notice I said "she?" I'm not reaching over backward to include the feminine in "God." The word Spirit is feminine in both Greek and Hebrew. So, referring to Spirit as "it" or "he" represses who she truly is and what she does. Once I saw that "Spirit" is feminine, my eyes lit up. A feminine Divine Spirit was completely missing in my early life. Now I'm adjusting to Holy Eros and other feminine energies. I feel all are so needed.
When people tell me they experience the world as energy more than matter, I am no longer skeptical. Spirit is energy and delivers energy. Like wind. We can't see energy but we see effects of energy—wind turbines, hurricanes, spring breezes and sailboats. I often prayerfully appeal to Divine Energy (Spirit) because I trust her exceedingly mighty powers and abundance to work for justice and love throughout business, government, religion, or anywhere in civilization. We need her correcting energy.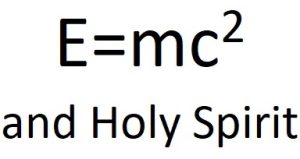 E=mc2 is Einstein's famous discovery showing that energy and mass are, in fact, one, even though only one side of the equation is visible. So, putting material wealth and spirituality in separate compartments creates an illusion. Yet it's common to keep faith out of decisions on money and power. That has serious consequences. One is the vacuum created for false spiritual views to move in. A most pernicious false spirituality teaches that those who have both wealth and power are blessed and appointed by God to lead and rule. That takes me into despair because wealth and power rig systems for their own advantage, not God's. When I prayerfully appeal to Spirit, I do so because she and her mighty, transcending, and unpredictable powers are allies with all efforts for justice and truth on this planet.
Over the years my fascination with Mystery has grown to where Mystery has become a door to experiencing Spirit. I was intuitively drawn to Mystery as a boy. Then, when I studied science and philosophy, I learned that every scientific solution results in more questions; and every philosophical framework is transcended by greater Mystery than what it explains. There is, I understood, no getting rid of Mystery.
In the 1980s I encountered the psychology of Carl Jung who increased my appreciation for Mystery and gave me a better frame for what I had been experiencing. Jung saw that soul was a far larger center of identity than ego. Ego, I learned, seeks rational descriptions of Spirit; but soul knows that rational descriptions always reduce Spirit to what egos can understand and control. Soul seeks to experience Spirit more than understand her. Soul asks Spirit to expand our minds so we can break through barriers that Ego creates and explore holy mysteries that egos seek to control.