By Lee Van Ham
Books on Christian nationalism have been coming out in rapid order in the past few years. Scores of authors are sounding the call to action for all desiring to follow in the way of Jesus which is antithetical to Christian nationalism.
An acquaintance I have in San Diego anticipates the release in September 2023, of his book on the subject. I'm glad to call attention to this book here in two ways: (1) the promo piece about the book and (2) by letting the author, John Fanestil introduce himself.
But it gets better. On the 3rd of June, 9 am PDT, I will interview John on the OneEarth Jubilee Forum. You can register for this free hour simply by sending me a note, lee@jubilee-economics.org.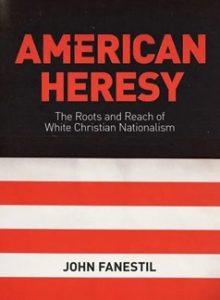 The promo piece about the book—American Heresy uncovers the complex legacy of America's founding principles, demonstrating how the very same values have produced both good fruit and the bitter harvest of white Christian nationalism. Fanestil adeptly traces an early American story that reaches into our present with alarming immediacy.
Using cogent examples from the earliest days of colonial settlement through the Revolutionary War era, Fanestil helps us understand how many of the principles we view as paradigmatic expressions of American identity have had contested histories from the start. Virtue has brought both self-sacrifice and extremism; progress, both cultural pride and white racism. The very same principles that underpin the United States' proudest moments also forged the white Christian nationalism that fruited so dangerously in the Capitol insurrection of January 6, 2021.
The implications of Fanestil's complex history are highly pertinent—and alarming. Far from a fringe movement embraced by a violent few, white Christian nationalism is a spiritual inheritance shared by all-white American Christians. Grappling with this history is vital if the United States is ever to move beyond its tragic legacy as a white settler society.
John Fanestil introduces himself—I am a native Californian and a graduate of Dartmouth College, Oxford University, where I studied as a Rhodes Scholar, and the Claremont School of Theology.  Ordained in the United Methodist Church, I earned my Ph.D. in History from the University of Southern California, with emphases in religion and early American history.
My writing has appeared in the Christian Century, the San Diego Union-Tribune and other publications. In my blog, I try to write "across the lines" of life and death, past and present, here and there.
My abiding interests are religion, American history and politics and the peoples and cultures of the U.S.-Mexico borderlands. I presently split my time between writing and two organizations rooted on the California/Baja California border — the Friends of Friendship Park and Via International
About his latest book, he says:
AMERICAN HERESY: The Roots and Reach of White Christian Nationalism (Fortress Press, 2023) uncovers the deep roots of white racism, political violence, conspiracy thinking, and more, tracing them to the early English Protestant colonization of North America. It also challenges us — especially those of us who identify as white and Christian and American — to reject this bitter fruit in our public life today.
Register for the OneEarth Jubilee Forum on June 3, 9 am PDT, and be part of our conversation with John on this toxic mix of religion and politics. Send a message to me, lee@jubilee-economics.org.