By Lee Van Ham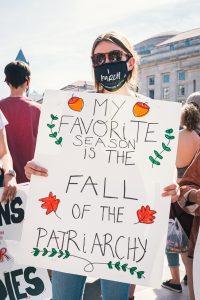 The rise of the extreme right throughout our nation (and the world) often feels like insanity. More than one psychotherapist says it is. Many psychotherapists avoid comment, explaining that professional ethics forbids analyzing anyone who isn't a client. But other psychotherapists critique this view as they insist that observing public figures like Donald Trump gives far more data for analysis than a brief interview and tests.
Accordingly, Mary Trump, an author with a doctorate in psychology has often said publicly that her uncle suffers from mental illness. She named narcissism and other personality disorders. She says her uncle was severely damaged by his sociopathic father, Fred.
In Too Much and Never Enough: How My Family Created the World's Most Dangerous Man, Mary Trump describes the president's father — her grandfather — as a high-functioning sociopath and blames him for instilling in his children the value of aggression and the notion that kindness is weakness.
She suggests the most damaged of the siblings is Donald Trump, who, she said, has a variety of psychological impairments: definitely narcissism, for which she says he meets all nine criteria, but probably other conditions. She lists as possibilities antisocial personality disorder, dependent personality disorder, a learning disorder and sleep disorder.
See the full article on the Canadian Broadcasting Company (Radio Canada) website where she discusses these issues in much greater detail. https://www.cbc.ca/news/world/trump-niece-book-1.5646052 Undiagnosed mental illness affects thousands drawn to far-right views. It feels excessive to name the pervasive illness of the far right. So it goes mostly unnamed and untreated—a cultural taboo causing great harm, destruction, collapse, and death. If we obey the taboo, we continue to be forced into experiences that explode all norms of civility and even normalize some violence. Thousands intent on countering and exposing this taboo engage in a huge struggle of cultural change.
In addition to the multiple ways the far-right traumatizes citizens, their mental illness extends across all creation, wounding, extracting, exploiting, and killing. The multiple crises underway in the natural world in which new technologies can maybe help, but maybe hurt. Profit and growth are the standards. The ethics of sustaining life is not.
Beyond psychotherapist definitions, how do we understand what is happening? For me, one really helpful understanding comes from bell hooks in her book The Will to Change: Men, Masculinity, and Love. She speaks of patriarchal masculinity as the killer and feminist masculinity as the healer:
Patriarchy promotes insanity. It is at the root of the psychological ills troubling men in our nation. (page 30)
Healing the crisis in the hearts of men requires of us all a willingness to face the fact that patriarchal culture has required of men that they be divided souls … Asked to give up the true self in order to realize the patriarchal ideal boys learn early and are rewarded for the acts of soul murder. (page 153)
That split in boys and men is often characterized by the capacity to compartmentalize. It is this division in the psyches and souls of males, fundamentally wounding, that is the breeding ground for mental illness…. They cannot experience joy and they can never truly love. (page 154)
To counter patriarchal power and its acute narcissism, we cannot overpower it. Such a pursuit transforms us into becoming what we seek to change. Pursuing leadership in patriarchal systems ultimately means we yield our true self and are reshaped by patriarchal power, in other words, we kiss our own sanity goodbye. Better to subvert patriarchal power with alternative structures—cooperatives, small companies that put people and planet first, activist nonprofits, spiritual activism with spiritually awake people, or any group in society that makes it their mission to live counter to the toxicity that hurries along the unraveling that is underway.
Jesus, a master at subverting powers, provides us with this nugget: whoever wishes to be great among you must be your servant (Matthew 20:26). Living this himself, he shunned the title Son of God because that was one of the emperor's titles. Instead, Jesus called himself Son of Man, or the Truly Human one. Think of it. Humanness can subvert the insanity of patriarchal culture and its leaders.
Photo by Gayatri Malhotra on Unsplash